Derek & Sarah's wedding was a very relaxed affair at a lovely country house called Cain Manor. The wedding ceremony and reception were very intimate and genuinely heartfelt and it was so nice to be a part of this special day.
I had the pleasure of working alongside Ines of Visavideo who shot some beautiful work on the day, that summarises it far better than I can in words. Have a look at the video here: http://www.visavideo.co.uk/wedding-video/sarah-derek-cain-manor/
On the day, we got some great shots of the dress and jewellery, that worked well using the dark textures and shadows of the timber structure as a contrast. The weather wasn't great so we had to shoot the group photos inside using off camera flash and a creative set up of sofas inside a reception room. It was cosy, but it worked out ok! The portraits of the bride and groom were shot under the shelter of the manor house and I particularly liked the image below (Sarah pointed out that I'd inadvertently created a heart shape in the silhouette between them).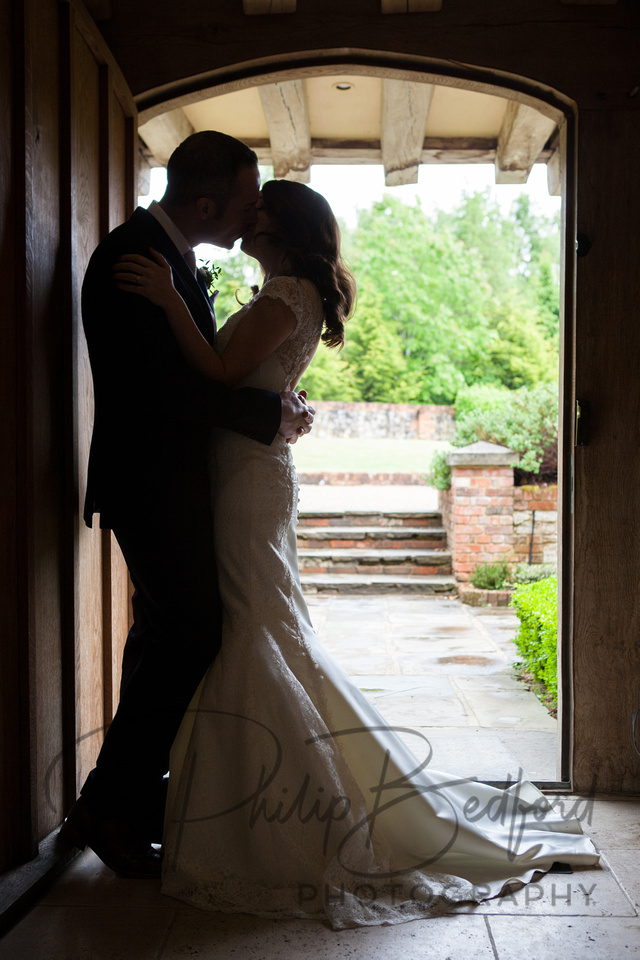 The decor of the reception was quite rustic and vintage in style, fairly minimal with blush pinks and ivory. They had little sweet jars with personalised M&M's which I thought were a very nice touch. Have a look at the (rather serious) game of team chess with the gents too!
Luckily, it cleared up a bit just at the approach of the late afternoon light and we went down to the long grass next to an orchard to shoot some more portraits, before getting some dancing and partying on for the evening.